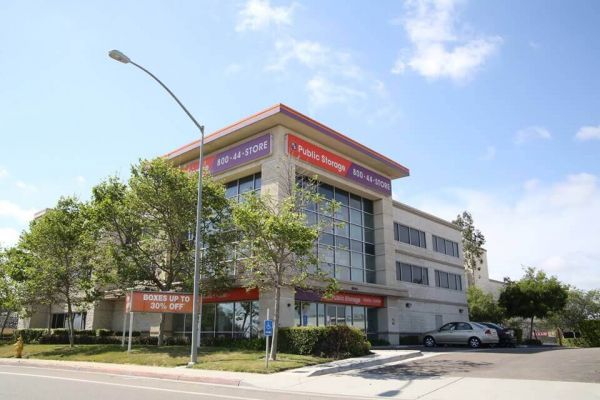 Make a risk free reservation at
Public Storage - San Diego - 8866 Miramar Road
Features & amenities
Access
Electronic gate access
Elevator available
Vehicle Storage Requirements
Requires registration
Requires insurance
Vehicle requires title
Must be drivable
Property Coverage
Insurance required
Insurance available
Homeowners/Renters insurance accepted
Billing
Email billing available
First of month
Auto-pay available
Cash accepted
Checks accepted
Credit cards accepted: Visa, AMEX, Mastercard, Discover
office hours
| | |
| --- | --- |
| Sun | 9:30 am - 5:00 pm |
| Mon | 9:30 am - 6:00 pm |
| Tue | 9:30 am - 6:00 pm |
| Wed | 9:30 am - 6:00 pm |
| Thu | 9:30 am - 6:00 pm |
| Fri | 9:30 am - 6:00 pm |
| Sat | 9:30 am - 5:00 pm |
access hours
| | |
| --- | --- |
| Sun | 6:00 am - 9:00 pm |
| Mon | 6:00 am - 9:00 pm |
| Tue | 6:00 am - 9:00 pm |
| Wed | 6:00 am - 9:00 pm |
| Thu | 6:00 am - 9:00 pm |
| Fri | 6:00 am - 9:00 pm |
| Sat | 6:00 am - 9:00 pm |
Facility's fees & requirements
Facility Administration Fee: $24.00
Security Deposit: Security deposit required
Public Storage - San Diego - 8866 Miramar Road
Customer reviews
1 - 5 out of 27 reviews
Good experience overall
Lisa was easy to work with and provided great customer service. The site is clean and well kept. Move-in was easy.
RecommendedYes
Price4/5 (good value)
Service5/5 (outstanding)
Cleanliness4/5 (clean)
- Diane T
Lisa was great!
Lisa was great!
- Rebecca Sutton
Good storage company
Really good location and quality of storage
- Agatha Scalzi
Perfect for a coronavirus quarantine
Definitely a storage unit. Spacious floor plan with an open kitchen. 5.5 bath, 1 bed. Ocean views to die for!! My wife's boyfriend highly recommended it! Just hope the iceblocks don't melt before summer.
RecommendedYes
Price4/5 (good value)
Service4/5 (very helpful)
Cleanliness5/5 (squeaky clean)
- Michael
Great customer service.
The staff gave us an excellent service and the courtesy was great.
RecommendedYes
Price3/5 (fair price)
Service3/5 (helpful)
Cleanliness3/5 (average)
- Marlo Castillo
REVIEWS SUMMARY
10% of respondents would recommend this facility to a friend.
Pros
Good Value(3)
Good Service(3)
Clean(3)