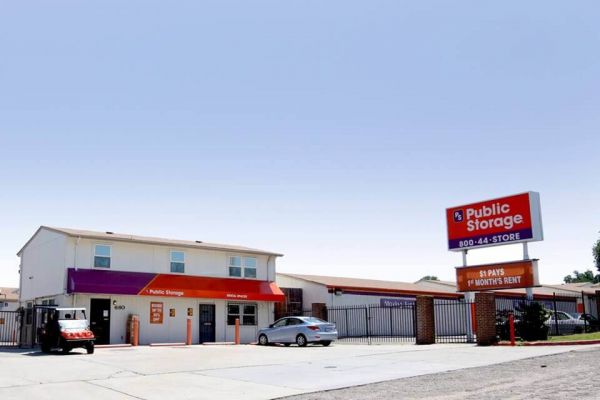 Make a risk free reservation at
Public Storage - Denver - 680 Sheridan Blvd
$1 first month rent
10' x 20' parking space
Drive Up Access
1st Floor
Vehicle
Outdoor-uncovered
Only 2 units left
$74.00
$87.00
per month
reserve
2nd Month Free
10' x 30' unit
Roll Up Door
Drive Up Access
Outdoor Access
1st Floor
Vehicle
Available for enclosed vehicle storage
Only 1 unit left
$203.00
$230.00
per month
reserve
Features & amenities
Vehicle Storage Requirements
Requires registration
Requires insurance
Vehicle requires title
Must be drivable
Security Features
Fenced & Lighted
Manager lives on-site
Property Coverage
Insurance required
Insurance available
Homeowners/Renters insurance accepted
Billing
Email billing available
First of month
Auto-pay available
Cash accepted
Checks accepted
Credit cards accepted: Visa, AMEX, Mastercard, Discover
office hours
| | |
| --- | --- |
| Sun | 9:30 am - 5:00 pm |
| Mon | 9:30 am - 6:00 pm |
| Tue | 9:30 am - 6:00 pm |
| Wed | 9:30 am - 6:00 pm |
| Thu | 9:30 am - 6:00 pm |
| Fri | 9:30 am - 6:00 pm |
| Sat | 9:30 am - 5:00 pm |
access hours
| | |
| --- | --- |
| Sun | 6:00 am - 9:00 pm |
| Mon | 6:00 am - 9:00 pm |
| Tue | 6:00 am - 9:00 pm |
| Wed | 6:00 am - 9:00 pm |
| Thu | 6:00 am - 9:00 pm |
| Fri | 6:00 am - 9:00 pm |
| Sat | 6:00 am - 9:00 pm |
Facility's fees & requirements
Facility Administration Fee: $24.00
Security Deposit: Security deposit required
About this facility
For customers on the west side of Denver, this Public Storage located on the northeast corner of 6th Avenue and Sheridan Boulevard is a smart solution offering cheap self storage units. This location features a large selection of outdoor storage units, which provide customers with convenient drive-up access, easy for loading or unloading a vehicle in minutes. A number of indoor storage units with interior hallway access are also at this facility, as well as rental parking spaces for short-term or long-term vehicle storage. Hot summer months are a little cooler when spent at nearby Surfside Spray Park. No need to scramble to find towels, bathing suits and sandals – keep everything in a cozy 5x5 unit at this location for a quick stop on the way. Playing softball at Martinez Park or enjoying the disc golf course at Lakewood/Dry Gulch Park? A 10x10 unit can fit all the necessary sports equipment with no problem. Less than four miles from Sports Authority Field at Mile High, a 10x15 unit or 10x20 unit store all of the tailgating essentials year-round, including tables, chairs and grills. With its easy access off of Interstate 25, as well as Highway 6 and Highway 121, and just a quick trip from Interstate 70, this facility is ideal for customers throughout the Denver area, especially those in Barnum, West Colfax, Moholm-Two Creeks, East Gate and Villa Park. Boasting one of the most unique park systems in the country, life in Denver and a love for nature go hand in hand. But that doesn't mean the city is short on suburban development and a welcoming of cutting edge technology. Often called one of the best places to live in the U.S., Public Storage is thrilled to be a part of this wonderful community.
Public Storage - Denver - 680 Sheridan Blvd
Customer reviews
1 - 5 out of 14 reviews
Very easy
Move in was very easy and I was well taken care of. Brittany was great
RecommendedYes
Price5/5 (excellent value)
Service5/5 (outstanding)
Cleanliness5/5 (squeaky clean)
- Kaila
Great facility, Best Pricing in Denver
Great facility, well-run, clean, secure. Excellent staff, very helpful. Manager Jennifer was available and went the distance to meet my needs and explain everything, securing me a rental unit with minimal complications and maximum ease. Definitely one of the better storage facilities I have ever dealt with. Pricing of rentals was also the bottom line best in the entire Denver area, as far as I could look.
- Tyler Nixon
Such good people and very friendly
Such good people and very friendly
- Customer
Is good and safety
Is good and safety
- Juan Torres
highly recommend!!!
I was treated very kindly and very professionally. Great customer service and also Made the move into the unit easy and quick. Highly recommend to anyone. Lindsey was amazing!!!
- Mark Deesparza
REVIEWS SUMMARY
4% of respondents would recommend this facility to a friend.
Pros
Good Value(1)
Good Service(1)
Clean(1)